RICHBITCH
Hi Ibiza, Ibiza.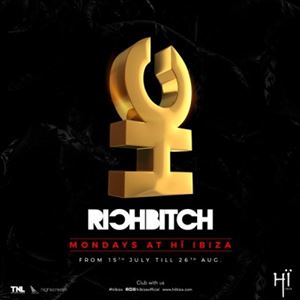 Buy your tickets for RICHBITCH and shake away your troubles every Monday from July 15 to August 26 at Hï Ibiza.
Este evento está reservado a las personas de más de 18 años. Ningún reembolso acordado a las personas de menos de 18 años.
Más información sobre las entradas para RICHBITCH
The biggest hip hop and reggaeton party I AM A RICHBITCH will be taking over Monday nights at Hï Ibiza from July 15 until August 26.
After three successful years at Privilege, Italian pop-sensation Ale Zuber brings his world-famous Latin event back to the party capital for another sizzling season of urban rhythm and electric sound. The rapid rise in the popularity of Latin music and the birth of RICHBITCH created the mother of urban-party concepts and a stampede of shakers to destinations across the globe, with RICHBITCH having host events in the party hot spots of Miami, London and Ibiza's neighbouring island, Formentera.
With the glamorous superclub Hï Ibiza as its new stomping ground, this sexy residency prepares to seriously shake up a storm in Playa d'en Bossa. Expect magnificent production, luminous lights and fierce dancers. If that doesn't raise your pulse enough, then wait until you hear the mighty sound system!
The noise behind this hot party is the combination of hip-hop, R&B, reggaeton, trap and moombahton - a rhythm fronted by a roster of incredible urban artists from around the world.
This year, the world famous Trey Songz will lead the tremendous Opening Party on Monday 15 July. Also joining the residency will be AYO & TEO, Ale Zuber, DJ Policy, DJ Charlsey, Future, Don Omar, Elettra Lamborghini, Stefflon Don,Sfera Ebbasta, Tyga and many more.
Important Information
- Dress code: No flip-flops, swimwear and / or football / basketball team jerseys are allowed.
- Right of admission is reserved.
- All assistants must take a valid ID.
- Hï Ibiza operates an over 18s policy. Anyone under the age of 18 will be refused entry.
- Opening times are not fixed and may change on the day.
- Unauthorised recording is not allowed.
- It is strictly prohibited to bring beverages (both alcoholic and non-alcoholic) into the premises of Hï Ibiza.
- Lineups and set times may be subject to change.
- No re-entry allowed, once you exit the venue, you'll have to pay again to access.
- Ticket refunds for a cancelled event can be requested during the 48 hours following the cancelled event.