Porto Legends
Alfandega do Porto, Porto.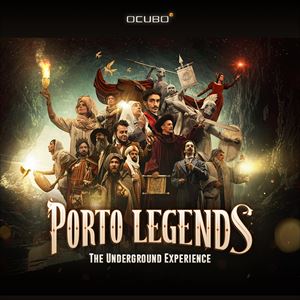 Beneath the Porto Customs House -- Furnas da Alfândega, a secret tunnel with a hidden treasure was discovered: the most precious legends in the history of the Undefeated City! Come and visit the most valuable treasure of the city: its history and legends.
Choose the day, and then the session you want to visit Porto Legends
Narration available in Portuguese and English.
The show is held from Tuesday to Sunday, from 10am to 7pm.The sessions take place every hour, where the first one starts at 10am and the last one at 6pm. New languages coming soon
Más información sobre las entradas para Porto Legends
Porto Legends -- the Underground Experience is an immersive virtual show that brings you deep into the hidden secrets and legends of the Undefeated City.

From the magical architecture of the Porto Customs House -- Furnas da Alfândega and the work by the renown historian Joel Cleto, OCUBO Studio created a show full of mystery, suspended between reality and imagination.

These legends will be told by the voice of "Best Actor" Academy Award winner Jeremy Irons as well as portuguese singer Pedro Abrunhosa.

All mysteries are an integral part of the soul of the city and will be narrated by voices, graphic animation and music, so the walls of Furnas da Alfândega will come alive to tell the public their story.

The show is a unique and immersive audiovisual experience of national resonance which aims to become a landmark of the city, a must-see cultural icon to be enjoyed by the people of Porto and by visitors alike.

Duration of the Show: 45 minutes
Doors open 15 minutes before the start of the show
Narration available in Portuguese and English. New languages coming soon
PROMOTER: OCUBO
More information at https://www.portolegends.com/
Need Help? For any question you can contact us at: ajuda@seetickets.com