Os Clandestinos - Concert And Dinner
Cool Cook Club, Lisboa.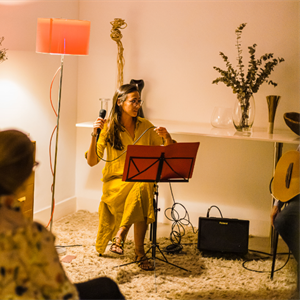 Más información sobre las entradas para Os Clandestinos - Concert And Dinner
Os Clandestinos - Concert and Dinner is a unique Event located in a beautiful place in the center of Lisbon - Cool Cook Club - where we celebrate tasty Food, live Music and genuine gatherings. We host a small group of people (Max. of 15) just like our own family or friends in a private charming venue. We talk intimately, we eat homemade food and engage our senses in an immersive live Concert also performed by us.

Os Clandestinos - Concerto e Jantar é um evento unico que acontece num local fantástico no centro de Lisboa - Cool Cook Club - onde celebramos deliciosas iguarias do mundo, Música ao vivo e encontros genuínos. Hospedamos um pequeno grupo de pessoas (máximo de 15), da mesma forma como hospedamos a nossa própria família ou amigos, num charmoso espaço privado. Conversamos intimamente, comemos comida caseira e envolvemos os nossos sentidos num concerto imersivo, também realizado por nós.


Who are we/ Quem somos

We're an Indo-portuguese couple and an Italian friend fervent about delicious Food, live Music and genuine gatherings.
I'm Carol, a professional Jazz singer. I've studied Performing Arts and specialized in Bossa nova music style. I've performed in Rio, London and Lisbon but it was only when I met Cláudio my dear friend and exquisite musician who I play with that I got deeper into this art. Together we've blend african, latin and brazilian music in a unique repertoire.
My partner Prasad, is a professional Photographer and a talented Cook. His father was a Chef and had various restaurants who influenced him profoundly.
My friend Irene, always loved watching the cooking routines of her family. She lived in 6 European countries along the way, tapping into different food cultures. She's passionate about complex flavors and using local products .

Somos um casal indo-português e um amiga italiana apaixonados por iguarias exóticas, música ao vivo e encontros genuínos. Sou a Carol, uma cantora profissional de jazz. Estudei Artes Cênicas e especializei-me no estilo musical de Bossa nova. Toquei no Rio, Londres e Lisboa, mas foi só quando conheci o Cláudio Kumar, meu querido amigo e músico excepcional, com quem toco, que aprofundei esta arte. Influenciados pela música africana, latina e brasileira desenhámos um repertório muito especial para nós.
O Meu parceiro, Prasad, é um fotógrafo profissional e um talentoso cozinheiro. O seu pai era Chef e tinha vários restaurantes que o influenciaram profundamente.
A minha amiga, Irene, sempre adorou assistir às rotinas de culinária da sua família. Viveu em 6 países europeus ao longo do caminho, e explorou diferentes culturas e formas de cozinhar. É apaixonada por sabores complexos e pelo uso de produtos locais nos seus cozinhados.


Our Goal - O nosso propósito

When we don't know where we are "from" and where we "belong" we become "Clandestinos". From there we will learn to enjoy everything and everyone that we never knew. It is just amazing to know that we are all "Clandestinos" when we forget our boundaries. Together we can bring different cultures, music, food and of course people!
Quando não sabemos de onde somos "e onde pertencemos", tornamo-nos "Clandestinos". A partir daí, aprenderemos a desfrutar de tudo e de todos aqueles que nunca antes conhecemos. É incrível saber que somos todos "clandestinos" quando esquecemos as nossas fronteiras. Juntos, podemos descobrir e festejar diferentes culturas, música, comida e, claro, pessoas!