Os Clandestinos - Concert And Dinner
Cool Cook Club, Lisboa.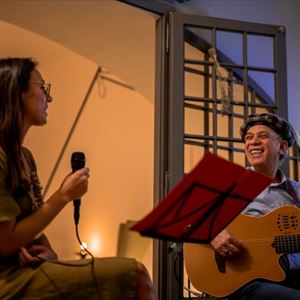 Más información sobre las entradas para Os Clandestinos - Concert And Dinner
Os Clandestinos - Concert and Dinner

Os Clandestinos - Concert and Dinner is an original and authentic Event where we celebrate Food, Music and genuine gatherings. We host a small group of people (Max. of 15) just like our own family or friends in a charming flat located in Central Lisbon. We talk intimatly, We eat homemade food and engage our senses in an immersive live Concert also performed by Us.

We are an Indo-portuguese passionate about delicious Food, live Music and meaningful experiences.

I am Carol, a professional Jazz singer. I have performed and organized concerts in Rio, London and Lisbon. When I sing I feel I am connecting to something beautiful, calm and reassuring. And it is a delight when I see people arriving at that same place through my Music.

My partner, Prasad, is a professional Photographer, a Graphic Designer and a talented Cook. His father was a chef and had various restaurants who influenced him to learn his skills in cooking. He cooks with his heart!

Our Music and our Food will take you on a Journey through Portugal, India, Brazil, Cape Verde (Once portuguese Colonies) and more! We are always looking for new exotic flavours, new music pieces and cosy get-togethers.

When we don't know where we are "from" and where we "belong" we become "Clandestinos". From there we will learn to enjoy everything and everyone that we never knew. It is just amazing to know that we are all "Clandestinos" when we forget our boundaries. Together we can bring different cultures, music, food and of course people!

We'll always have good vibes, tasty food, amazing music and lots of good people from around the world. Let's be together!

Os Clandestinos - Concerto e Jantar

Os Clandestinos - Concerto e Jantar é um evento original e autêntico, onde celebramos a Comida, a Música e encontros genuínos. Hospedamos um pequeno grupo de pessoas (máximo de 15), da mesma forma como hospedamos a nossa a nossa própria família ou amigos, num charmoso apartamento localizado no centro de Lisboa. Conversamos intimamente, comemos comida caseira e envolvemos os nossos sentidos num concerto ao vivo imersivo, também realizado por nós.

Somos um casal Indo-português apaixonado pela Culinária, Música ao vivo e experiências com significado.

Sou a Carol, uma cantora profissional de Jazz. Fiz parte e organizei alguns eventos musicais no Rio, Londres e Lisboa. Quando canto, sinto que conecto com algo bonito e tranquilizador. E é uma prazer quando vejo as pessoas chegarem a esse mesmo lugar através da minha música.

O meu parceiro, Prasad, é um fotógrafo profissional, um Designer gráfico e um talentoso Cozinheiro. O Seu pai era Chef e tinha vários restaurantes que o influenciaram nas suas habilidades culinárias. Ele cozinha com o coração!

A nossa música e as nossas iguarias irão levá-lo a uma viagem por Portugal, Índia, Brasil, Cabo Verde (outrora colônias portuguesas) e muito mais! Estamos sempre à procura de novos sabores, nova música e encontros aconchegantes.

Quando não sabemos de onde somos "e onde pertencemos", tornamo-nos "Clandestinos". A partir daí, aprenderemos a desfrutar de tudo e de todos aqueles que nunca antes conhecemos. É incrível saber que somos todos "clandestinos" quando esquecemos as nossas fronteiras. Juntos, podemos descobrir e festejar diferentes culturas, música, comida e, claro, pessoas!

Prezaremos sempre pelas boas vibrações, comida saborosa, música incrível e muitas pessoas boas de todo o mundo. Visitem-nos!