LXM Festival
FIL - Feira Internacional de Lisboa, Lisboa.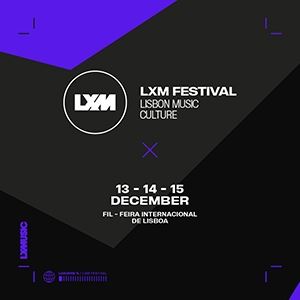 LXM Festival: Lisbon Music Culture
E assim acontece!
Evoluímos pela música, por Lisboa. Neste movimento incessante de criar e dar vida aos sonhos, de desafiar o presente com empenho e devoção, de aspirar ao que universo e o futuro nos reservam e ainda assim com um pé na terra.
Não tencionamos fazer história pelo testemunho, mas sim pela ação, a projetar, a edificar as bases das próximas gerações, novos caminhos, o evoluir por cada um que se dedica de alma e coração a esta forma de arte, a esta "estranha forma de vida".

And so it happens!
We evolved through music, through Lisbon. In this incessant movement to create and bring dreams to life, to challenge the present with commitment and devotion, to aspire to what the universe and the future hold, and yet with one foot on earth.
We do not intend to make history through witness, but through action, designing, building the foundations of the next generations, new paths, the evolution for each one who dedicates heart and soul to this art form, this "strange form of art life".
Solamente podrán acceder los mayores de 18 años - No se harán reembolsos para menores de 18 años
Continuar
Más información sobre las entradas para LXM Festival
QUAL A IDADE MÍNIMA PERMITIDA NO FESTIVAL?
A idade mínima permitida no festival é 18 anos.

POSSO PARTILHAR O MEU PASSE DE TRÊS DIAS (3 DAY PASS) COM UM AMIGO?
O bilhete é pessoal e intransmissível, não havendo lugar a devoluções ou reembolsos.

ONDE SERÁ REALIZADO O LXM FESTIVAL 2019?
O evento será realizado na Feira Internacional de Lisboa situada no Parque das Nações. Os eventos em si terão lugar no Pavilhão número 3.

QUAIS AS RESTRIÇÕES À ENTRADA DO RECINTO?
- Objetos perigosos (canivetes, qualquer tipo de arma, correntes, cintos e/ou pulseiras pontiagudas, etc.)

- Fogo de artifício ou pirotécnico e explosivos;

- Equipamento fotográfico, som e imagem de grandes dimensões e tripés;

- Computadores e laptops;

- Lasers e lanternas;

- Cadeiras;

- Objetos de vidro (garrafas/ perfumes, etc.);

- Outros objetos que possam ser considerados perigosos pelas autoridades competentes.

PROMOTOR: LXMUSIC