João Donato At Gretchen
Gretchen Club, Berlin.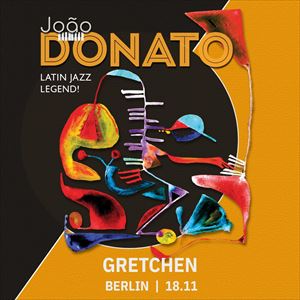 João Donato is one of the greatest Brazilian jazz pianists and has been an essential figure in both Brazilian and American Jazz for a long time. Known as one of bossa nova's fathers and one of Latin Jazz's biggest stars, at 84 he keeps the gas of creativity fully active.
Más información sobre las entradas para João Donato At Gretchen
For this special concert in Berlim he brings to life his first all-new album in 15 years, the Latin Grammy nominated "Donato Eléctrico", where he plays vintage electric pianos and analog synthesizers once again. Donato will be accompanied by musicians of the new scene of São Paulo, some members of the acclaimed Bixiga 70, the Afrobeat combo from Brazil that rotates the world playing festivals.

One of the fathers of Bossa Nova in Brazil in the 50s, after moving to the US, Donato also helped create latin jazz in the early 60s and funky fusion in the early 70s, being recorded by cats such as Wes Montgomery, Cal Tjader, Mongo Santamaria, Herbie Mann, Cannonball Adderley, and creating influential solo albums like "A Bad Donato" and "Donato/Deodato". A fundamental name in MPB back in Brazil in the 70s, Donato recorded with names like Caetano Veloso, Gal Costa and Gilberto Gil, and since then enjoyed a career as an arranger and jazz pianist, playing regularly all over Brazil and in frequent tours through Europe and Japan.

PROMOTER: LadoBe Creative