Forest Soul 2019 - The Druid's Calling
Eco-Celtic Park, Montalegre.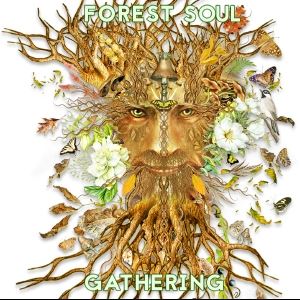 Más información sobre las entradas para Forest Soul 2019 - The Druid's Calling
Forest Soul Gathering 2ºEdition
Dear Forest Soul,
Thanks to you and the power of your union during the 1st gathering I woke up from a long sleep...
Time has come for me to pass on a message, that was given to me by the ancients, to get it spread among the coming generations!
Catch me at this Forest Souls' Gathering opening ceremony, I will share it with you in a multidimensional way
- Druid ??‍
GENERAL INFO
7 days Free Camping
Free & Clean Water
Full Moon - 16th of July 21h38
450 KVA of renewable energy
12ºC - 40ºC
Cooking Area
Biological Food Market
Artesanal Beer & Local drinks
Library - Book exchange area
Children Area
Activities, Games, Animations
20 Eco Toilets
Waste Recycling System
Organic Agriculture & Permaculture sessions
Zen Space
Medical Assistance 24/24
Risks Reduction / Prevention Area
Food Shops
Handcraft & Clothes shops
Druid's Temple
Otherworld (Geodesic Dome)
Reggae / Dub SoundSystem
Website: https://forestsoulgathering.com
RESTRICTIONS
Fire
Dogs (allowed in camping & parking)
Glass
Non-Eco Hygiene Products
APPLICATIONS
Art gallery https://goo.gl/forms/lOZa8WnIQ5oOqf2o1
Market https://goo.gl/forms/BgCYbqDD9qDnk2Bt1
Performance https://goo.gl/forms/9VZuPcCssYm36Vww2
Zen Space https://goo.gl/forms/2lZGwvNMiX4Tmf5j2
Volunteers https://goo.gl/forms/JorII8EdkJ79nGeu1
TICKETS
1st Ticket Pre-Sale SOLD OUT - 70€ ??
2nd Ticket Pre-Sale - 80€ + 6% - Until the 20th of March
3rd Ticket Pre-Sale - 90€ + 6% - Until the 10th of July
Entrance : 100€
Limited to 2500 tickets.
Link SeeTickets:
https://www.seetickets.com/event/forest-soul-gathering-2019-the-druid-s-gathering/eco-celtic-park/1300212
TICKET AMBASSADORS (Portugal Only)
- Rui Mesquita
- Duarte Saraiva
- Zarah Ziggy
- Bruno Rdm Borges
- Maria Jordão
DRUID'S TEMPLE
(Void Incubus SoundSystem)
Deco by :
Visuals by :
Line UP
Ahyoka | AJJA | Akanamah | Anoebis | ANTHILL [Kala & Yudhisthira] | |ANTONYMOUS | ARTIFACT 303 | ASTRONATIVE | BURN IN NOISE | CALYPTRATUS | CELESTIAL INTELLIGENCE | Chronic | CIRCUIT BREAKERS [Burn In Noise & Dickster] | Cosmic | Daksinamurti | Dark Deity | DARK WHISPER [3H Special Live] | DARKSHIRE | DICKSTER | ECTOBOT [Ectogasmics & Nobot] | ECTOGASMICS | EPHEDRA | ETNICA [Retro Set] | Ganeisha vs PsyDream | GASPARD | GELFLIN [Band] | HYDRA-E vs GANDHABBA | KASATKA | INFINITTI GRITTI (Ajja, Burn In Noise & Dickster) | InSaint | ISOMETRIC | JOYFULL NATIVES | KALA | Kalayaan | Kher-Nun vs Val Vashar | KIN | LURKER | MAKUMBA | MICROSPHERE | MIDDLE MODE | MK-ULTRA | NAACAL | NIBANA [Downtempo Live] | NOBOT | OBELISK [Ectogasmics & Darkshire/Makumba] | OHM MIND | OLOJI [Band] | OPUS SUMMUM [Kasatka & Calyptratus] | ozonee | Pandallannis | PLEIADIANS | POWER SOURCE [Retro Set] | PURIST | RAWAR | REZONANT | Roy Sason | SECRET VIBES [Band] | SHIDAPU | TARA PUTRA | THE HIEROPHANTS [Purist, Via Axis & Yachay] | TRANSWAVE [Retro Set] | ULVAE | VIA AXIS | Wacamolo | YABYUM [Ajja & Gaspard] | YESTERMORROW | YUDHISTHIRA | Z3NKAI | ZZBING
OTHERWORLD
(A.S.S. Soundsystem)
Deco by :
Visuals by :
Line UP
AJJA & TANINA [2H30 DjSet] | Audiact | CABEIRI [3H Live] | CHILLED C'QUENCE | COLT | Cosmic | Galadriel | HUNGRY JACKS | Kher-Nun | LAB'S CLOUD [3H Live] | MAN OF NO EGO | Melodruid | MILLIVOLT [1H30 Live +
1H30 DjSet] | Morgoth | N.SOF | NEURONOD | NIBANA [3H live] | Oliverzion | Paraohm | PETE & PAN [2h Live+ 2H DjSet] | Pro Logik | PROPHET ? PSYAGATA | SAKI | SEPHIRA [2H Live + 2H DjSet] | SIEBZHEN [2H Live + 3H Dj Set | SIGIL [1H30 Live + 2H30 DjSet] | SUDUAYA [3H Live] | SUFI'S LIFE | Val Vashar | WAKHAN | Yatra | ZEN BABOON | ZEN RACOON
All our energy is focused on making this magical bianual eco-gathering for all of us, where we will be aware of our breath and feel in peace, in family