Farmfestival
Gilcombe Farm, Bruton, Somerset.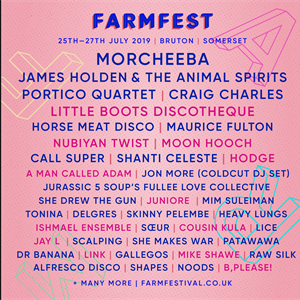 Please note: all tickets include parking and camping

This year a refundable Litter Bond (£3) will be added to all camping tickets. This will be refunded when you produce one full bag of waste or recycling to the Litter Bond Deposit Point along with your Litter Bond ticket. The Litter Bond can be exchanged for a drink at the bar (value £4.50) or refunded in cash (face value). As Part of our Love the Land scheme, we wish to do our upmost to leave the farm clean and tidy so the animals can go back to their home as quickly as possible. More information on collecting your litter and returning your bond will be published in early 2019.

Each year Farmfest aims to do some good work for good causes. This year we will be teaming up with Somerset Wildlife Trust and B Sharp to carry out our quest to LOVE THE LAND and for you all to LOVE YOURSELF. 30% of the booking fee from every Farmfest ticket sold is donated to our chosen causes so you're doing a great thing by just purchasing a ticket! Both charities will be hosting a range of exciting activities onsite including bug hotel making and group jamming sessions.
Más información sobre las entradas para Farmfestival
Age restrictions:
Adult tickets are 18 and over
12-17s tickets must be accompanied by a parent or guardian, no more than 4 people / accompanying adult or guardian
and must be accompanied by a parent or guardian at all times.
Under 12s are free but need to be registered. Each child ticket holder will be given a special wristband, with space to write their guardian's name and phone number.

Door times:
Weekend ticket: 10:00 26th July 2019 - 15:00 28th July
Saturday only: 09:00 27th July - 15:00 28th July

Show times:
12:00 26th July until 4:00 am
12:00 27th July until 4:00am

For 13 years Farmfest has been carefully crafted into one of the most unique and inclusive smallscale gatherings in the UK, where music and people set the tempo and the curious venture.

Set to a sumptuous Somerset backdrop, our pocket-sized field builds a swirling musical orchestra with performances from some of the finest emerging and established left-of-mainstream artists, operating within the realms of electronic, indie, folk and world, but where genre meets no border.

From early morning workouts to kids' workshops, or brilliantly blended beats to riotous jumbles of jazz and brass-based bonanzas, comedy and poetry - or just a touch of the people's spirited madness - you can come find your groove. Home to more than seven music venues, plus a host of other spaces and delights for the whole family, it's a consciously capped 5000 people capacity for the whole weekend, and a bubbling blend of unfettered festival frolics and humming party vigour.

Back for 2019, it's still run by a collective of friends, with and for the local community as an independent, non-corporate and sponsor free event, and one that gives back to charities close to our hearts.

Set at a price that's to help and not hinder, Farmfest is for the time out we all seek. So kick back, cut loose - and come play.

Nominated for 'Line-up of the Year' at UK Festival Awards 2017, inlcuding: Shobaleader One | Roots Manuva | Greg Wilson | Nightmares On Wax | Actress | DJ Yoda | Max Graef | Session Victim | Guts | Pinch | Melt Yourself Down | This is the Kit | BC Camplight | Dele Sosimi Afrobeat Orchestra | 47Soul | Oliver Wilde | London Astrobeat Orchestra Performs: Talking Heads | and many more

2019's line up will be coming soon!