Elétrico - Porto Music Experience
Parque da Pasteleira, Porto.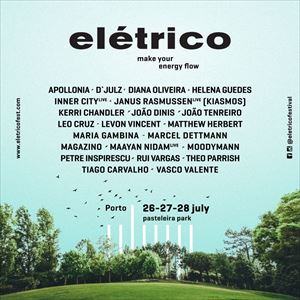 Este evento está reservado a las personas de más de 16 años. Ningún reembolso acordado a las personas de menos de 16 años.
Más información sobre las entradas para Elétrico - Porto Music Experience
Elétrico é um festival de música, arte e tecnologia nascido da energia, cultura e carácter da cidade do Porto.

Mais do que um festival, é um choque de cultura celebrar o dia, o sol, o ar livre, o contacto com a natureza.

Um veículo de emoções ("Elétrico" é também a palavra portuguesa para "Eléctrico"), ligando o nosso passado ao nosso futuro, o antigo ao novo, bem como um estado de espírito fresco e irreverente que o Porto está a desenvolver na dinâmica da cidade.

Um Elétrico que traz o Mundo ao Porto e leva o Porto ao Mundo.

_____________________________________________________________________________________
Elétrico is a music, art, and technology festival born from the energy, culture, and character of the Porto city.

More than a festival, it's a shock of culture to celebrate the day, the sun, the outdoors, the contact with nature.

A vehicle of emotions ("Elétrico" is also the Portuguese word for "Tram"), connecting our past with our future, the old with the new, as well as a fresh and irreverent state of mind that Porto is developing in the dynamics of the city.

An Elétrico that brings the World to Porto, and takes the Port to the World.